The exercise that is gained from swimming is non impact, and so, compared to running on a hard surface, swimming is going to be much easier on your knees and hips. The same holds true for dogs. Adding a swimming pool to the list of amenities you offer to your dog's exercise program can be extremely beneficial to his health.
The Benefits of swimming
The resistance that water has upon a swimmer causes the swimmer to work harder than exerting that same amount of energy during other exercise activities, such as running for example. Frequent swimming helps the dog to build muscle strength and increase muscle tone. This harder workout helps to improve a dog's cardiovascular and respiratory system, and increases the dog's range of motion-all without increasing the impact associated with running on a hard surface.
The improved musculoskeletal system helps to prevent future injury as well. Swimming exercise also helps to improve mental health and helps the swimmer relax and lose a few pounds at the same time. It should not be a replacement for land exercise, however, but used in addition to walking, running and other land activities.
As with people, swimming in cold water may cause muscles to cramp. Warmer water promotes better circulation, and so, lessens the amount of time needed to warm up before a exercise. This lessens the possibility of cramps and adds to the overall enjoyment of the swimming experience.
Dogs may require some rest time when starting a swimming regiment. Swimming will tire them out, thereby promoting a good nights sleep. Rest being a critical law of natural health.
Hydrotherapy is often used to treat certain types of musculoskeletal injury and post op orthopedic patients. many trainers and veterinary facilities are using underwater treadmills to help dogs recover from injury more quickly. This is especially important where the patient may not be able to tolerate walking.
Pool Safety
Fencing 
It goes without saying, that just as with any swimming pool for humans, a pool intended for dogs must be safe. It must be safe for the occupants, safe for the operators, but also safe for any passerby's. Proper pool fencing is a must, and not just any fencing will do. It must be a fence that will stop a would be child climber from trying to get into the fenced pool yard, but also it must prevent a dog with houdini escape or climbing skills from trying to get out.
Fencing may be needed for indoor pools to protect everyone, people or canine, from getting into the water without proper supervision.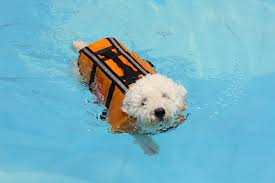 Life Safety
It must be understood that not all dogs know how to swim. Each dog must be introduced to the water to ensure that they can indeed swim and are not frightened of water. For those who are a little unsure of the water, life jackets are available for dogs of all sizes. A life preserver should be available for human swimmers too whom are supervising, should someone get into trouble. Nothing can replace a responsible adult supervising the pool.
No dog or child should ever be left unattended in a pool area for any reason, EVER! The person on duty should be watching the pool and not checking social media on a smart phone.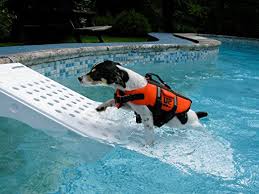 Stairs, Ladders and Ramps
For all dogs in the pool, having an easy route to get out of the water is extremely important. I have seen dogs climb out of a swimming pool ladder that is intended for human egress. Understand that not all dogs, and some humans for that matter, may not be able to negotiate a pool ladder for egress.
Similar to a ship's brow, ramps are available in which one end attaches firmly to the edge of the pool deck and the other extends into the water with a float that hold the ramp at about a foot or two below the surface of the water. This type of ramp allows a dog to essentially walk out of the pool without touching the pool bottom. Also available are floating stairs which may work better depending on how the water is below the pool deck.
It is important that every dog knows where the pool exit points are and how to use each before allowing free access to the pool.
If there is a shallow end of the pool, or built in stairs or ramp, it may be shallow enough to allow even small dogs to jump or even walk in and out without assistance. Large stair landings will allow even small dogs to enjoy the pool without any fear of not being able to get out when tired out from swimming.
Hydrotherapy Tank Access
Many hydrotherapy tanks with underwater treadmills use a separate holding tank into which the water is pumped while awaiting the next patient to enter the tank and close the door. When the dog and therapist are in the tank, the water is pumped back into the exercise tank to a level providing the appropriate buoyancy for the size, activity and therapy desired.
Overhead Crane
Depending on the use, and the pool, an overhead crane may be used with a sling to lower the dog into and out of a tank or pool. This is especially nice for therapy treatment in pools for a dog of whom may not be ambulatory.
Building Your Own Dog Pool
Indoors vs. Outdoors
An indoor pool has several benefits over an outdoor pool. An indoor pool offers better security over an outdoor pool and they are easier to keep clean as blowing leaves and debris will not be a problem. The biggest advantage is of course, the weather. Dogs can be swimming during inclement weather all year long.
Indoor pools also have drawbacks. Cost is biggest. It will cost more to build the pool and enclose the structure. The water in the pool will evaporate into the air within the building. The mechanical system in the building must be designed to handle the moisture, draining it back into the pool. This adds to the overall cost and operation of the pool.
Outdoor Pool
Outdoor pools in mild climates allow for an open air feel and are less costly to build and operate, but require more cleaning time because of leaves, dirt and bugs that get into the pool. They must be protected with a fence and can only be used during mild weather.
Pool Heaters
Heating an outdoor pool extends the usable season, but that adds considerable operating costs for heating the fuel. Some insulated covers are available that float on the water surface helping to hold the heat in as the sun warms the water, but they are bulky and storage can be a problem when not in use during swimming hours.
Using solar panels to heat the water and circulate that warmed water back into the pool would eliminate the fuel cost for heating the water, but solar panels are pricey.
Above Ground Vs. In Ground
There are various types of pool construction available, but not all are suitable for frequent abuse from canine use. First, make the choice between an in ground or an above ground pool. If building a new swimming pool for constant canine and human use, most likely an in ground pool will serve your needs best, if the lay of the land is relatively level. This allows easy access to the pool and to the adjacent yard for a place for the dogs to rest.
If choosing an above ground pool, consider that you may need to provide ramps to get onto the pool deck.
Construction Type
In areas where the temperature drops below freezing in the winter, some outdoor pool construction types require that the pool be drained or the water level be reduced substantially during the cold, winter months.This may not be the best choice, as you may need to fill the pool with water from a garden hose which can be quite a bit of cash out of pocket and take several days depending on the size of the pool. This outlay of cash will occur every spring.
Concrete or Gunite
The pool could be made of concrete or gunite which is sprayed into place. We personally have concrete. The shape of the pool will be defined by the steel rebar structure into which the concrete is sprayed. The pool can be any shape your desire. This is a good choice if you are planning a bone shaped pool or one for dock diving sports. Just be sure to eliminate any sharp corners your dog could swim into.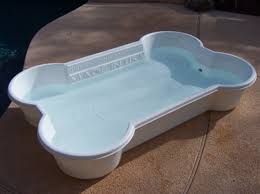 Fiberglass
Another choice is manufactured fiberglass. This limits your shape choice because the fiberglass is pre-formed. They look something like a giant seashell and are trucked to the site and craned into a hole in the ground. They are back filled as the water increases.
Vinyl or Plastic Liner
Some pools are made with a heavy vinyl or plastic type liner. The bottom of the pool is formed with sand to protect the liner from sharp stones. The straight sides are formed with steel panels that are bolted together forming the pool walls. Once filled with water and back-filled, the sand stays in place from the weight of the water. Makes a very nice human pool, however because of the liner, may not be a great choice for canine use.
Pool Size
The size of your pool depends greatly on the activities you and your dog will be preforming and the number of dogs and people that will be in the pool at the same time. Most dogs have energy to burn, but all dogs cannot swim for hours upon hours at a time.
Depth of the Pool
The depth of your pool also depends on the pool activity. Most pools are at least 4 feet deep.
Water Filtration and Purification
A typical human swimming pool may only require a skimmer to collect leaves from the surface and a sand filter to collect dirt and everything else. The sand filter is back-washed, where it is cleaned and ready to trap more impurities.
A pool for dogs is different. The filtration system must be able to purify the water. Dogs may not get out of the water to relieve themselves. Solids may be collected with a net and disposed of into the trash. Any pathogens must be destroyed, something a sand filtration system will not do.
Inquire about a ultraviolet light or some other filtration for the task.
Dock Diving
If you are thinking of using your pool for training the sport of dock diving, research the activity and how much space you will need to make it happen. The water itself for dock diving must be 4 feet deep and the dimensions of the pool should be at least 17 X 41. Take into consideration the length of the dock needed.
Big Air Diving
Big air diving is the long jump for canines. These dogs race off a 40 foot dock into a body of water to retreat a float or toy. Distances are measured from the end of the dock to the base of the dogs tail as it enters the water. The distance record exceeds 30 feet.
Extreme Vertical Jumping
Extreme vertical is a high jump contest in which the dog launched upward, nearly 7 feet in the air, and then into the water. The dogs must knock down a bumper which is suspended over the water.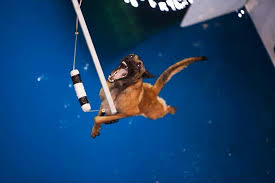 Speed Retrieve
Speed retrieve is a bumper hung at the end of a pool, near the surface of the water. The dog runs 20 feet on the dock, jumps in the water and swims to the bumper. This is a timed race.
There is a lot that goes into the design and construction of a canine pool for both personal pleasure and commercial business.  Find a quality pool builder, ask a lot of questions, save up a lot of money, and enjoy your canine pool this summer.
Check out these doggie swims around the country and hopefully in your neighborhood!
Happy Swimming!!
ARKANSAS
Mountain Home, AR
Dog Pool Party
Mountain Home Swimming Pool
CALIFORNIA
Cameron Park, CA
Pooch Plunge and Laps at the Lake
Cameron Park Lake Lagoon
COLORADO
Dog Swim Day
Aspen, CO
Doggie Day at the ARC
Aspen Recreation Center
Boulder, CO
Dog Dayz
Scott Carpenter Park Pool
Discovery Bay's Doggie Day
Discovery Bay Waterpark
Longmont, CO
Dog Swims at Roosevelt Pool
Roosevelt Activity Pool
Denver, CO
Dog Daze at F-15 Pool
F-15 Pool
Parker, CO
Barker Days
H2O'Brien Pool
CONNECTICUT
Rocky Hill, CT
Dog Day at the Pool
Elm Ridge Outdoor Pool
Wethersfield, CT
Annual Dog Swim
Mill Woods Swim Pond
FLORIDA
Coral Gables, FL
Paws in the PoolVenetian Pool
Deerfield Beach, FL
K9 Water Festival
Quiet Waters Park
Hollywood, FL
K9 Water Festival
Castaway Island Water Park
GEORGIA
Pine Mountain, GA
Dog Splash & Luau at the Liberty Bell Pool
F.D. Roosevelt State Park
IDAHO
Lava Hot Springs, ID
6th Annual Dogapoolooza – Open Swim for Dogs
Olympic Swimming Complex
Nampa, ID
9th Annual Pooch Party Stoll & Splash
Lakeview Park
ILLINOIS
Rochelle, IL
Pooch Plunge
Spring Lake Pool
Rockford, IL
Dog Days of Summer
Northeast Family YMCA
INDIANA
Franklin, IN
Doggie Pool Day
Franklin Family Aquatic Center
Jeffersonville, IN
Pooch Plunge
Jeffersonville Aquatic Center
IOWA
Ankeny, IA
Pooch Paddle Dog Swim
Prairie Ridge Aquatic Center
Des Moines, IA
Doggie Dive
Aquatic Center and Pool
Dubuque, IA
Doggie Dip
Marshalltown, IA
6th Annual Dog Days of Summer Doggie Dip
Marshalltown Aquatic Center
Norwalk, IA
We Have Gone to the Dogs (Dog Swim)
Norwalk Aquatic Center
KANSAS
Hays, KS
Dog Swim
Hays Aquatic Park
Lawrence, KS
Pooch Plunge
Outdoor Aquatic Center
Lenexa, KS
Tails on the Trails Dog Swim
Ad Astra Pool
Pittsburgh, KS
10th Annual Dog Swim
The Pittsburgh Aquatic Center
KENTUCKY
Lexington, KY
Doggie Paddle
Woodland Aquatic Center
Louisville, KY
3rd Annual Dog Swim
Calypso Cove Aquatic Facility
Winchester, KY
Dog Swim
College Park Gym, 15 Wheeler Ave.
MICHIGAN
Troy, MI
Dog Swim
Troy Family Aquatic Center
West Bloomfield, MI
Pooch Plunge
Family Aquatic Center
Ypsilanti, MI
Annual Dog Swim
Rolling Hills Water Park
MARYLAND
Chevy Chase, MD
Annual Dog Swim
End of Summer
Somerset Pool
Ocean Pines, MD
Doggie Swim
Mumford's Landing Pool
Ellisville, MO
Pooch Plunges
EDGE Aquatic Center
Kansas City, MO
Dippin' Dogs & The Springs
Springs Aquatic Center
Kirkwood, MO
Dog Pool Parties
September 6, 5:00-7:00 p.m. (all dogs)
September 8, 5:30 to 6:00 p.m. for dogs 25 pounds and smaller; 6:00-7:30 p.m. for all dogs.
The Kirkwood Aquatic Center
O'Fallon, MO
Pool Paws Dog Swim
Alligator's Creek Aquatic Center
St. Charles MO
Dog Swim
McNair Aquatic Center
NEBRASKA
Omaha, NE
Doggie Dips 2016
NEW JERSEY
Wildwood, NJ
Morey's Piers "Gone to the Dogs"
Raging Waters Water Park at Morey's Piers
OHIO
Avon Lake, OH
11th Annual "Big Splash" Dog Swim
Avon Lake Municipal Pool
Bellefontaine, OH
Dog Day at the Pool
Hoffman Municipal Pool
Brook Park, OH
Annual Dog Swim
Alice M. Hassing Waterpark
Hinckley Township, OH
Dog Paddle and Pet-A-Palooza
Cleveland Metroparks Ledge Pool
Independence, OH
Dog Swim & Fun Day
Independence Outdoor Pool
Lakewood, OH
2016 Lakewood Dog Swim
Foster Pool at Lakewood Park
Mason, OH
Dog Day
The Beach Waterpark
Shaker Heights, OH
Doggie Dip
Thornton PoolWillowwick, OH
Dog Dayz Swim at Manry Pool
Manry Pool
OKLAHOMA
Broken Arrow, OK
Pooch Plunge
Nienhuis Aquatic Facility
Stillwater, OK
4th Annual Pooches in the Pool
City of Stillwater Municipal Pool
PENNSYLVANIA
Allentown, PA
Doggie Dips
Boyertown, PA
6th Annual Yip & Dip Dog Swim
The Boyertown Community Pool
Elysburg, PA
Doggie Dive
Knoebels Amusement Resort
Finleyville, PA
5th Annual Labor Day Dog Swim
Mineral Beach
State College, PA
Aqua-Dog DayPark Forest Pool
SOUTH CAROLINA
Charleston, SC
Dog Day Afternoon
Greenville, SC
Doggie Pool Party
Greenville Community PoolGreenville, SC
Waggin' at the Waterpark – Otter Creek
Otter Creek WaterparkSimpsonville, SC
Waggin' at the Waterpark – Discovery Island

Discovery Island Waterpark
SOUTH DAKOTA
Sioux Falls, SD
Dog-a-POOL-ooza
Check website for date
Laurel Oak and Terrace Park Family Aquatic Centers
Spearfish, SD
Doggie Swim
Spearfish Rec & Aquatic Center
TEXAS
Bedford, TX
Dog Splash /2K-nine
Bedford Splash Family Aquatic Center
Cedar Hill, TX
Paws in the Pool-ooza
Crawford Park Pool
El Paso, TX
8th Annual Dog Day Swimming
Nations Tobin Aquatic Center
North Richland Hills, TX
Doggie Beach Bash
NRH2O Family Water Park
Garland, TX
11th Annual Dog-A-Pooloza
Holford Community Pool
Craig McxAllester